Glen Burn Trail is a vibrant new community where family ties run deep.
Not only is it a great place to own a home and spend precious time with your loved ones, it's also a place where all of the major players are successful, family-run businesses.
Builder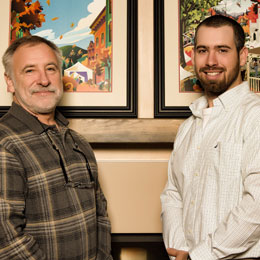 Halloran Construction
With a longstanding reputation (since 1976) as one of the top custom builders in Ellicottville and the surrounding the area, the father and son team of Mike and David Halloran have won numerous accolades for building distinctive, superbly finished homes.
To the benefit of every homeowner, they lend their knowledge and insight, from the initial design process through to the completion of the homes and post construction.
It was precisely because of their sterling reputation, won over decades of service, they were chosen as the builder partner for Glen Burn Trail. As you tour Glen Burn Trail's model homes, their attention to detail and high construction standards is evident throughout.
Sales and Support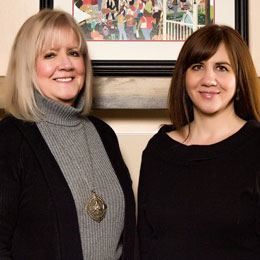 Team Pritchard
More important than the fact that Team Pritchard is one of Ellicottville's most successful real estate teams with annual sales consistently exceeding $11 million, is how this mother and daughter team got there in the first place. From day one, when Cathleen and her daughter Melanie formed this powerhouse team in 2008, their success has been based on the genuine desire to help customers find the right home, based on the unique, individual needs of each family. And then to build a lasting relationship long after the sale, that has consistently translated into a steady stream of return business and referrals.
With a combined experience of over 45 years specifically in Ellicottville and the surrounding area, they know the market, the builders and the homes, based on everything from quality of construction to location, in order to help customers find the best value for their money. When they learned of the Glen Burn Trail project, it was a perfect fit.
Developer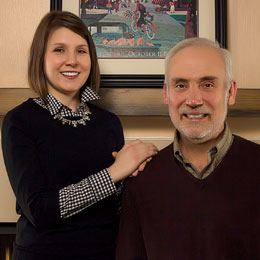 Hillview Mews
Hillview Mews, LP is a family venture run by father and daughter team Chris and Jennifer McNally. The decision to build Glen Burn Trail is based on the deep rooted desire to build not just great homes in Ellicottville, but homes that are in reach of middle class families wanting to experience the town's tremendous four-season lifestyle. And not just as visitors, but as residents.
It's a desire that stems from the fact the family has spent decades skiing and spending quality time in this area – and with Glen Burn Trail, they're now making this experience possible for other families looking to embrace a lifestyle that keeps getting better.
Overseeing the project with an experienced, steady hand, Chris McNally brings to the table 40 years in the heavy civil engineering and construction business as well as being an executive member of the Canadian Construction Association. Jennifer McNally, with site and transit design and project management experience in both the GTA and Buffalo is a Certified Urban Planner. Jennifer specializes in site design and project management, with great instincts for spatial design and layout.
The family roots don't stop there; Chris' grandfather, Simon McNally, was a residential developer in Southern Ontario and Western New York, and his father, Patrick and his Uncle Joe ran a highly successful construction company in Southern Ontario for decades starting in the 1950's. Clearly, successful building is in this family's blood.
---