This Spring Soar Through the Trees at Holiday Valley's Sky High Adventure Park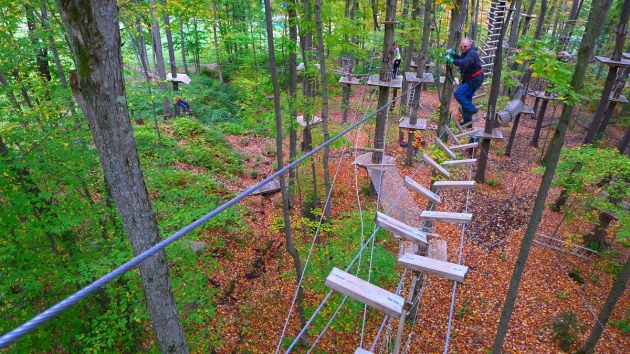 Start the Green Season off right with an exciting adventure in the trees! Sky High Adventure Park features an Aerial Park with 13 courses of varying difficulty that challenge you to climb ladders, cross bridges, navigate obstacles and slide down zip lines; a Climbing Forest; and Sky Flyer Mountain Coaster. Sky High (Aerial Park and Climbing Forest) is now open Friday, Saturday and Sunday from 9 a.m. to 6 p.m., while the Mountain Coaster will be operating Friday, Saturday and Sunday from May 21 to June 13. Both attractions will be open seven days a week starting June 18th.
Holiday Valley has incorporated changes to ensure everyone's health and safety this summer. Guests are encouraged to make reservations/sign waivers online and to bring their own gloves with leather palms or purchase them onsite. The registration area has been redesigned to maintain social distancing and minimize common touch points. Masks are required when registering, in the Harness Shop and in the Briefing/Practice areas but are optional on the course unless guests are interacting with staff or other climbers at a distance of less than 6 feet. While climbing, there's a limit of two people per platform if you're a family or traveled together, otherwise one person per platform.
For additional information visit www.holidayvalley.com or call 716-699-4444. And to learn more about how Glen Burn Trail can put you in the center of four-season adventure contact Team Pritchard www.teampritchard.com – Cathleen Pritchard or Melanie Pritchard (716-575-SELL).