March 14-15 Ellicottville's Mardi Gras Weekend: Wind Down Winter And Welcome Spring With Season's Biggest Bash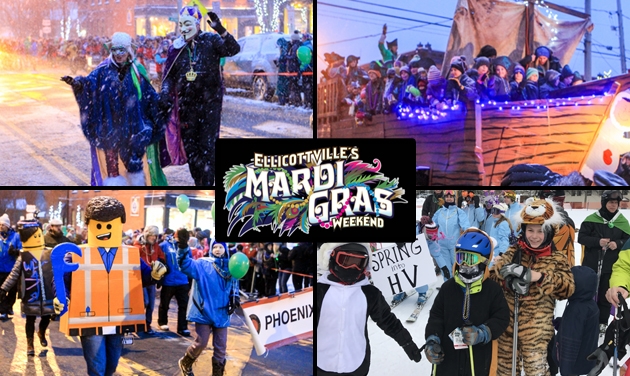 This weekend bid a fond farewell to winter and get ready to welcome spring with the season's biggest bash - Holiday Valley's Winter Carnival and Ellicottville's Mardi Gras Parade. A family-friendly festival with tons of fun activities on the hill, highlights include Snowbar and Lawn Games at the base of Yodeler, Face Painting, Scavenger Hunts, Live Entertainment, Food, Parades - The Village Parade in downtown Ellicottville on Saturday night and The Costume Parade at Holiday Valley on Sunday (winner gets a season pass for next year)… and everyone's favorite, the Dummy Downhill Race!
In addition, kick-off Ellicottville's Bicentennial celebrations by getting out your vintage ski clothing, attending a Fireside Chat with Holiday Valley Founder Edna Northrup and viewing the fascinating Historical Displays at the Main Lodge. And contribute to the greater good by giving to the Ski Patrol Food Drive benefitting the Ellicottville Food Pantry. Drop off items at Tops Market Saturday and Sunday or bring your donation to the Village Parade or Guest Services at Holiday Valley.
For additional details and a complete schedule of the weekend's exciting events go to www.ellicottvilleny.com or call 800-349-9099; www.holidayvalley.com or call 800-323-0020. To arrange your personal tour and learn more about Glen Burn Trail's newest units contact Team Pritchard (www.teampritchard.com) – Cathleen Pritchard or Melanie Pritchard (716-575-SELL).